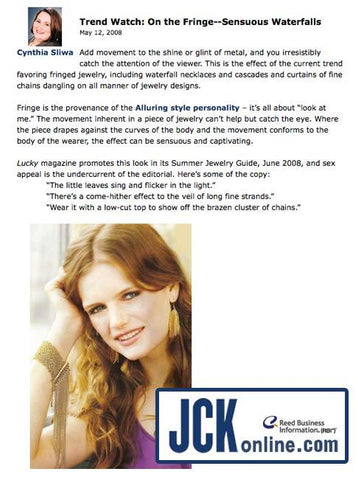 May 2008: JCK Online
Trend Watch: On the Fringe--Sensuous Waterfalls
By Cynthia Sliwa
Posted on May 11, 2008 in Jewels on Jewels
Add movement to the shine or glint of metal, and you irresistibly catch the attention of the viewer. This is the effect of the current trend favoring fringed jewelry, including waterfall necklaces and cascades and curtains of fine chains dangling on all manner of jewelry designs.
Fringe is the provenance of the Alluring style personality – it's all about "look at me." The movement inherent in a piece of jewelry can't help but catch the eye. Where the piece drapes against the curves of the body and the movement conforms to the body of the wearer, the effect can be sensuous and captivating.
Lucky magazine promotes this look in its Summer Jewelry Guide, June 2008, and sex appeal is the undercurrent of the editorial. Here's some of the copy:
"The little leaves sing and flicker in the light."
"There's a come-hither effect to the veil of long fine strands."
"Wear it with a low-cut top to show off the brazen cluster of chains."
Brazen cluster—you get the idea! Whereas Lucky features gold and gold-plated jewelry, the brazenness of the designs becomes decidedly Goth or punk for an even naughtier look when rendered in silver, especially if the chains are more substantial.

This is decidedly not a look for an office environment or your conservative customer. One caution: The focus of these designs brings the eye down to the point where the fringe ends, so this is not a good look for someone with drooping or sagging features.
The finest of the chains make for an exceptionally appealing look, as seen in the Kerri Parker necklace of 14 karat gold featured in Lucky, but this look is for the woman with delicate features and smooth skin. Otherwise, the contrast of the fragile chains with large or relatively courser features will serve to emphasize the differences in size and refinement.

For a customer with average to large features, show her pieces of larger scale that are likely to be more flattering. She can still obtain the sensuous essence of these designs but on a scale more appropriate for her features. After all, you and your customer both want the viewer to notice the alluring woman wearing the jewelry.